Dr Andy Song with Jose Angel Gurria Secretary General of the Organization for Economic Co-operation and Development ( OECD) during events in China under China's G20 Presidency in 2016.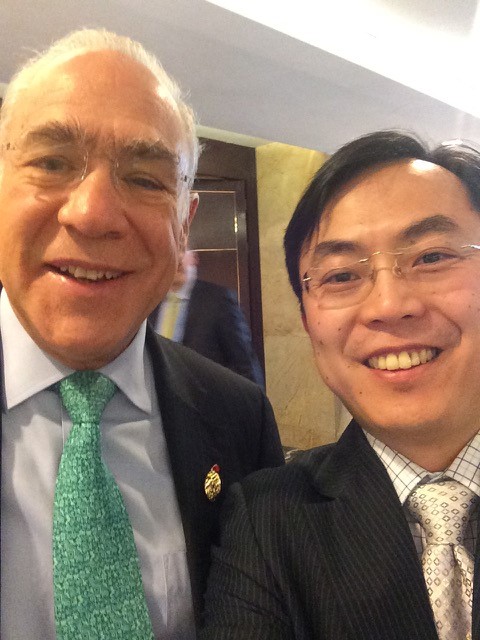 The OECD sets high standards for member countries and the International Community
Often referred to as the rich countries club the Paris based OECD has in our view at eNotus Inc been a well informed and disciplined body providing essential information to the global community of nations well beyond its core economic competencies. The many fields of concern that it's well balanced staff and leadership provide are among the best available research into these topics.
Although today we have among our staff and advisors experts from diverse backgrounds at the OECD we consider these people among our best assets guiding our own work on subjects ranging from trust in business to the new demands created by digital economy and rapid emergence of Artificial Intelligence and its potential impacts on the future of work and the current jobs and educational dilemmas affecting the majority of countries.
The OECD through its various affiliated bodies such as the Business and Industry Advisory Committee ( BIAC) shown a level headed and informed stance towards new technologies and social movements sometimes even providing thought leadership in fields like SMEs and the Global Value Chains.
A lot of criticism has been directed at the UN and other global agencies over recent years and there are even current threats to with hold funding, however the independence of these  organizations is essential to an effective international community and the OECD is one that demonstrates its value through the quality and consistency of its work.
The OECD's core values
Objective: Our analyses and recommendations are independent and evidence-based.
Open: We encourage debate and a shared understanding of critical global issues.
Bold: We dare to challenge conventional wisdom starting with our own.
Pioneering: We identify and address emerging and long term challenges.
Ethical: Our credibility is built on trust, integrity and transparency.